April 23–April 26, 2009


New Jerseyy goes Dark Fair

Val Lewton
Kaspar Müller
Ringier Annual Reports*
Carissa Rodriguez
Rita Vitorelli

Dark Fair. A project by Milwaukee International at Kölnischer Kunstverein
Opening: April 22, 2009, 9.30 pm
Opening Hours: 6–12 pm

* by Peter Fischli, David Weiss (2007), Richard Phlillips (2006), Richard Prince (2005), Matt Mullican (2004), Christopher Williams (2003), Aleksandra Mir (2003), Liam Gillick (2001), Harald F. Müller (2000), Christian Philipp Müller (1999), Sylvie Fleury (1998, out of print, http://www.lulu.com/content/paperback-book/ringier-annual-report-1998/6776166), Glegg & Guttmann (1997, out of print, http://www.lulu.com/content/paperback-book/ringier-annual-report-1997/6772940)
Flyer
Download PDF
Press Release (German)
"Im kommenden April werden die Organisatoren der Milwaukee International Art Fair ein einzigartiges Event im Kölnischen Kunstverein präsentieren: die Dark Fair. In der Tradition anderer alternativer Kunstmessen, wie der Unfair, die 1992 und 1993 in Köln stattgefunden hat, inszeniert die Dark Fair ein alternatives Kunstmesseerlebnis.
Als subversive and experimentelle Miniaturkunstmesse wird die Dark Fair ohne den Gebrauch von natürlichem oder elektrischem Licht stattfinden. Eine Auswahl internationaler Galerien, Projekträume und Künstler werden Arbeiten zeigen, die diesen Bedingungen entsprechen. Unter Verwendung von Kerzenlicht, Blitzlicht und Öllampen präsentieren sie Arbeiten, die im Dunklen leuchten, Lichtskulpturen, Videos und Performances. Nach dem Erfolg der Dark Fair 2008 am Swiss Institut in New York haben der Kölnische Kunstverein und die Art Cologne Milwaukee International zu einer zweiten Ausgabe in Köln eingeladen.
Während der Dark Fair wird auch eine von Matthew Higgs kuratierte Videonacht stattfinden sowie die Gruppenausstellung Submerging Artists mit Unterwasserskulpturen. Maureen Paley wird ein Special Screening von Lars Laumanns Morissey Fortelling the Death of Diana präsentieren und Julia Stoschek ein Videoprogramm. Spencer Sweeney und Gavin Russom werden an verschiedenen Abenden Platten auflegen.
Milwaukee International wird betrieben von Nicholas Frank, Scott Reeder, John Riepenhoff, Elysia Borowy-Reeder and Tyson Reeder. Zu ihren Projekten zählen Milwaukee International Art Fair 2006 und 2008 in Milwaukee, die Dark Fair 2008 in New York und die kommende Ice Fair, die 2011 auf einem zugefrorenen See in Winnipeg stattfinden wird.

Teilnehmende Galerien und Projekträume:
Ancient and Modern, London
Bas Fisher Invitational, Miami
CANADA, New York
China Art Objects, Los Angeles
Gavin Brown's Enterprise, New York
General Store/Club Nutz, Milwaukee
The Green Gallery, Milwaukee
Guido W. Baudach, Berlin
Inova, Milwaukee
Jack Hanley Gallery, San Francisco, New York
Leo Koenig, Inc., New York
Malmö Konsthall, Malmö
Misako & Rosen, Tokyo
New Jerseyy, Basel
Projects in Art and Theory, Köln
Schmidt & Handrup, Köln
Small A, New York
The Suburban, Oak Park
Tanzschule Projects, München
Track House, Chicago
Willy Wonka, Inc., Oslo
und andere

Künstler:
Zu den ausstellenden Künstlern zählen Donald Baechler, Olaf Breuning, Santiago Cucullu, Paul Druecke, Martha Friedman, Gaylen Gerber, Rachel Harrison, Mary Heilmann, Andreas Hirsch, Jose Lerma, Tony Matelli, Rosalind Nashashibi und viele andere.

Programm:
22. April21:30–24 Uhr, Eröffnung, DJ: Spencer Sweeny
24. April19 Uhr, Videos previously shown at White Columns, Screening, kuratiert von Matthew Higgs
25. April19 Uhr, Lars Laumann Morissey Fortelling the Death of Diana, 20 min, Screening kuratiert von Maureen Paley
20 Uhr, Screening kuratiert von Julia Stoschek mit Videos von Christian Jankowski, Jesper Just, Adrian Paci, Thiago Rocha Pitta und Mathilde Rosier
21 Uhr, Lars Laumann Morissey Fortelling the Death of Diana, 20 min, Screening kuratiert von Maureen Paley
21–24 Uhr, Performance mit Gavin Russom (DJ)

Eintritt:
23.04.–26.04.09, 18–24 Uhr, 4 €/2 €, freier Eintritt für Mitglieder

Kontakt:
Milwaukee International
Elysia Borowy-Reeder
eborowy@gmail.com
www.milwaukeeinternationalart.com"

Press Release (English)
"This coming April 23-26, the organizers of the Milwaukee International will bring a unique 4 day event to the Kolnischer Kunstverein in Cologne: DARK FAIR. This subversive and experimental miniature art fair will take place without the use of natural or electric light. An international selection of galleries, non-profits and artists will display work custom to these conditions, using candlelight, flashlights, oil lamps, work that glows in the dark, light sculpture, battery-powered video and unplugged performances.
******
EXCERPT OF INTERVIEW FROM UOVO MAGAZINE:
The Milwaukee International Dark Fair at the Swiss Institute was intended to be an art fair with no electricity, an art fair in the dark. This is in keeping with the Milwaukee International's motivating idea to take the art fair idea and make it interesting, instead of, you know, kind of boring. Galleries from around the world were eager to participate, and many featured projects made especially for the conditions of the fair, including KS Art's candle sculptures by Jeff Davis, Marlo Pascual's candle picture/sculpture at White Colomns, and Picture Box's entire glow-in-the-dark print portfolio featuring a ton of great artists including Jim Drain, Paper Rad, Brain Bellott, & Melissa Brown. There were a few cheaters, like Marianne Boesky who showed Sue DeBeer's re-creations of Brion Gysin's Dream Machines, and wich we et live becaue they were such good ideas to have in the fair. Also Ports Bishops glow-stick portrait studio at Little Cakes, which was not only perfectly in the spirit of the fair, but an incredible way of making photographic portaits.

We constructed restaurant-style booths instead of normal art fair booths, to encourage hanging out. Normally things aren't so casual at art fairs but we thought it would be a good idea to encourage this sort of interaction, sitting down to talk with gallerists and artists and collectors and whoever, or groping in the dark, or whatever normally happens after the art fair closes, but during open time.
******
DARK FAIR will also feature a 'Video Night' curated by Matthew Higgs, 'Submerging Artists' by General Store (a group show of underwater sculptures), a red carpet project by Paul Druecke and ambient video presented by Inova/Small A Projects. Also, a special screening of Lars Laumann's 'Morissey Fortelling the Death of Diana' presented by Maureen Paley and DJ & nightly performances including Spencer Sweeney, Gavin Russom and more."

Photos
Dark Fair, 2009 (Exhibition view)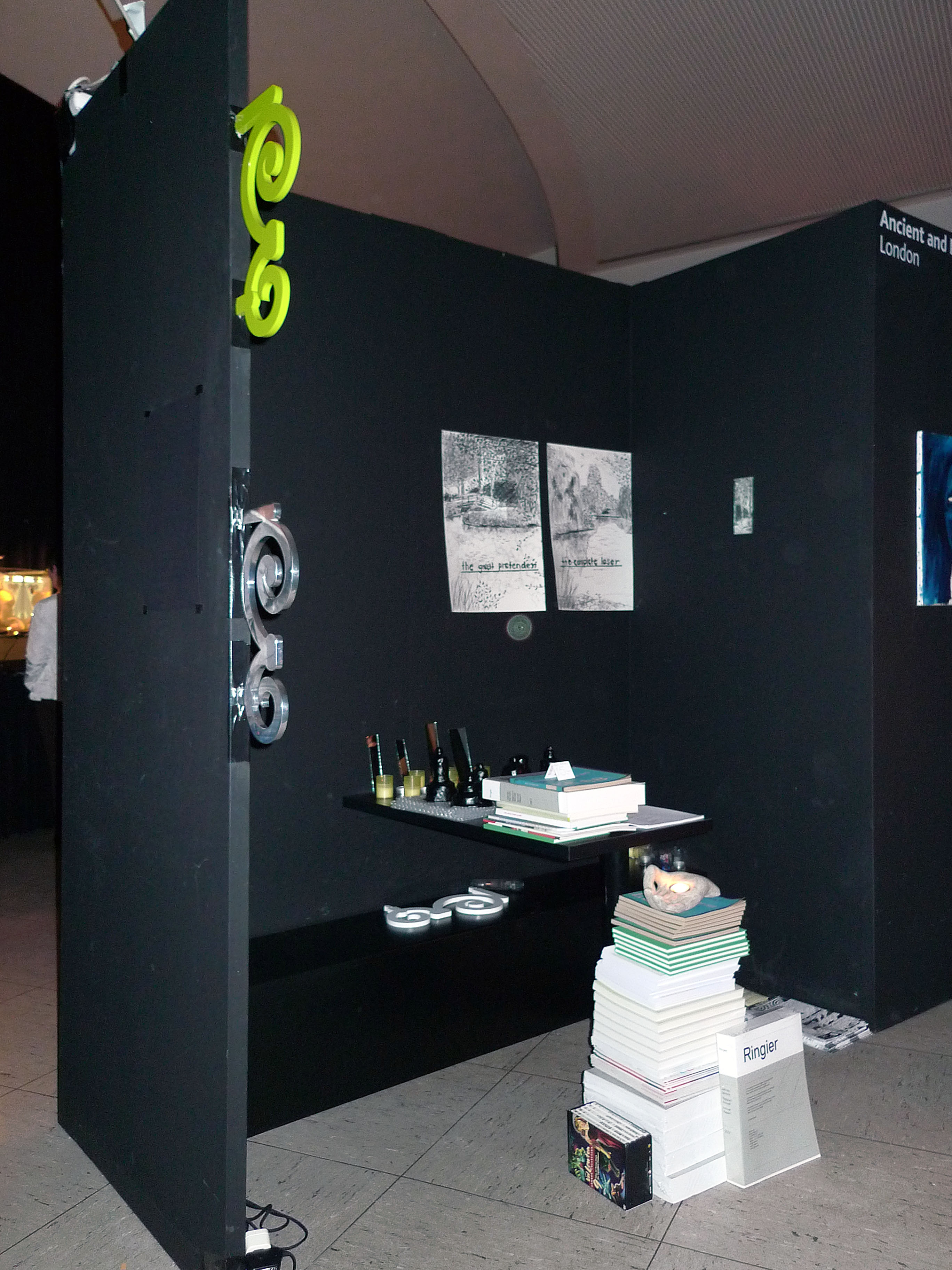 Kaspar Müller, Caps, 2009, clay, india rubber, tar
Rita Vitorelli, e, les yeux / […], 2009, seven mirrors, sizes may vary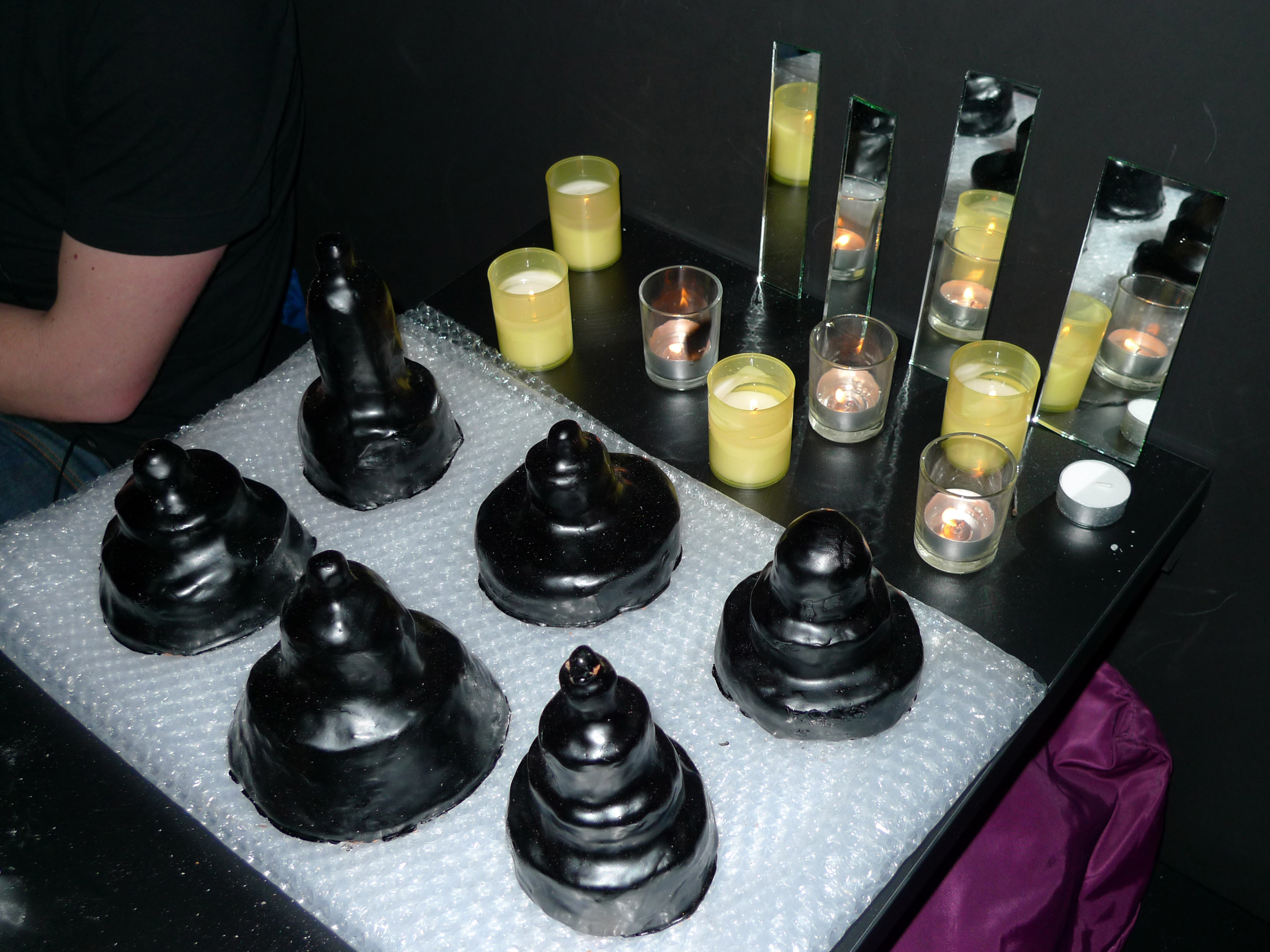 Kaspar Müller, The Great Pretender, 2009, charcoal on paper, 50×65 cm
The Complete Loser, 2009, charcoal on paper, 50×65 cm
Rita Vitorelli, e, les yeux / […], 2009, seven mirrors, sizes may vary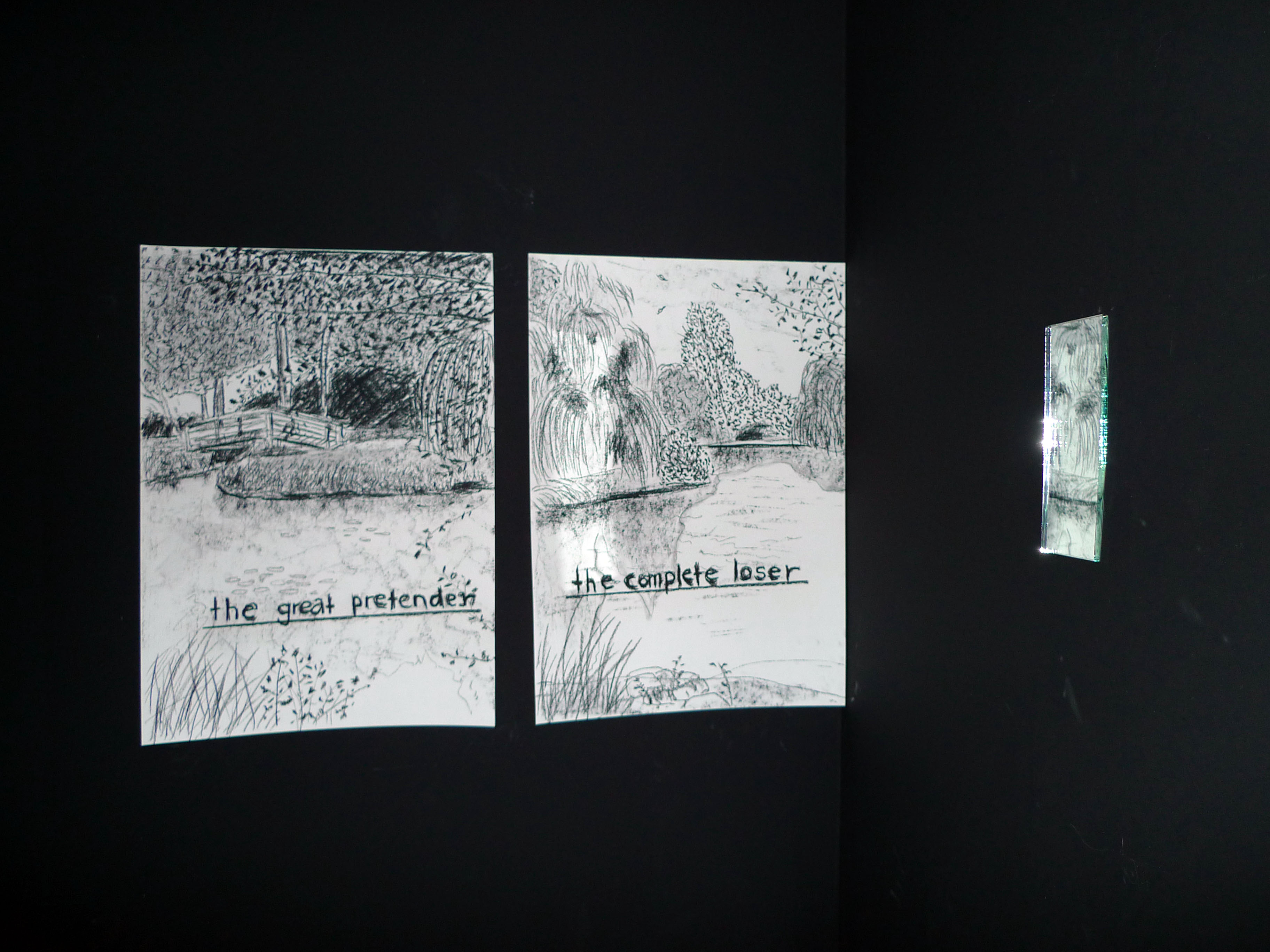 Carissa Rodriguez, Infinite Sign (Chrome), 2009, Aluminum with mirror finish, 42×24×1.27 cm
Infinite Sign (Chartreuse), 2009, Aluminum with acrylic coating, 42×24×1.27 cm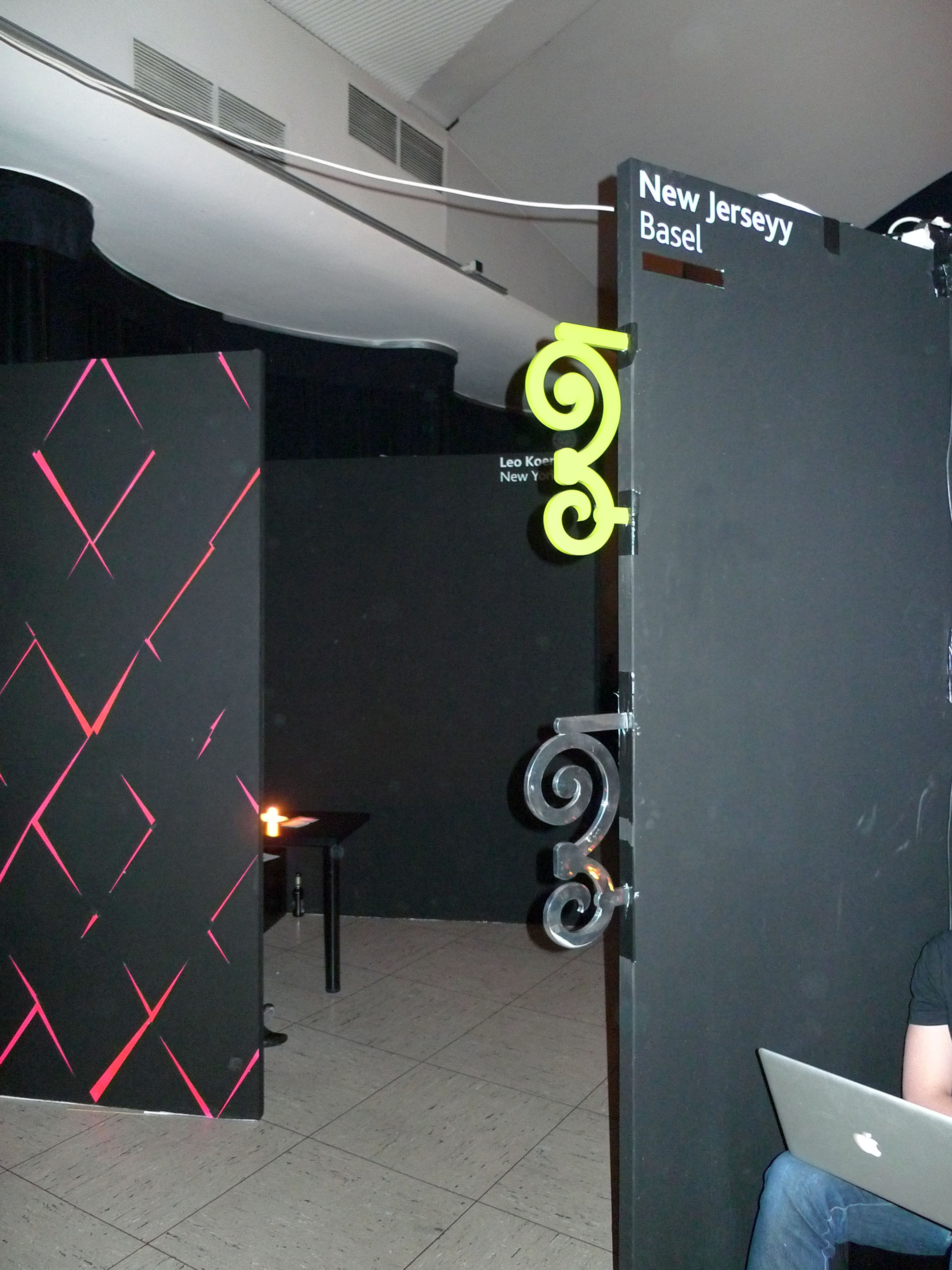 Kaspar Müller, Hände, 2008, clay, candle
Ringier Annual Reports, 1997–2007
The Val Lewton Horror Collection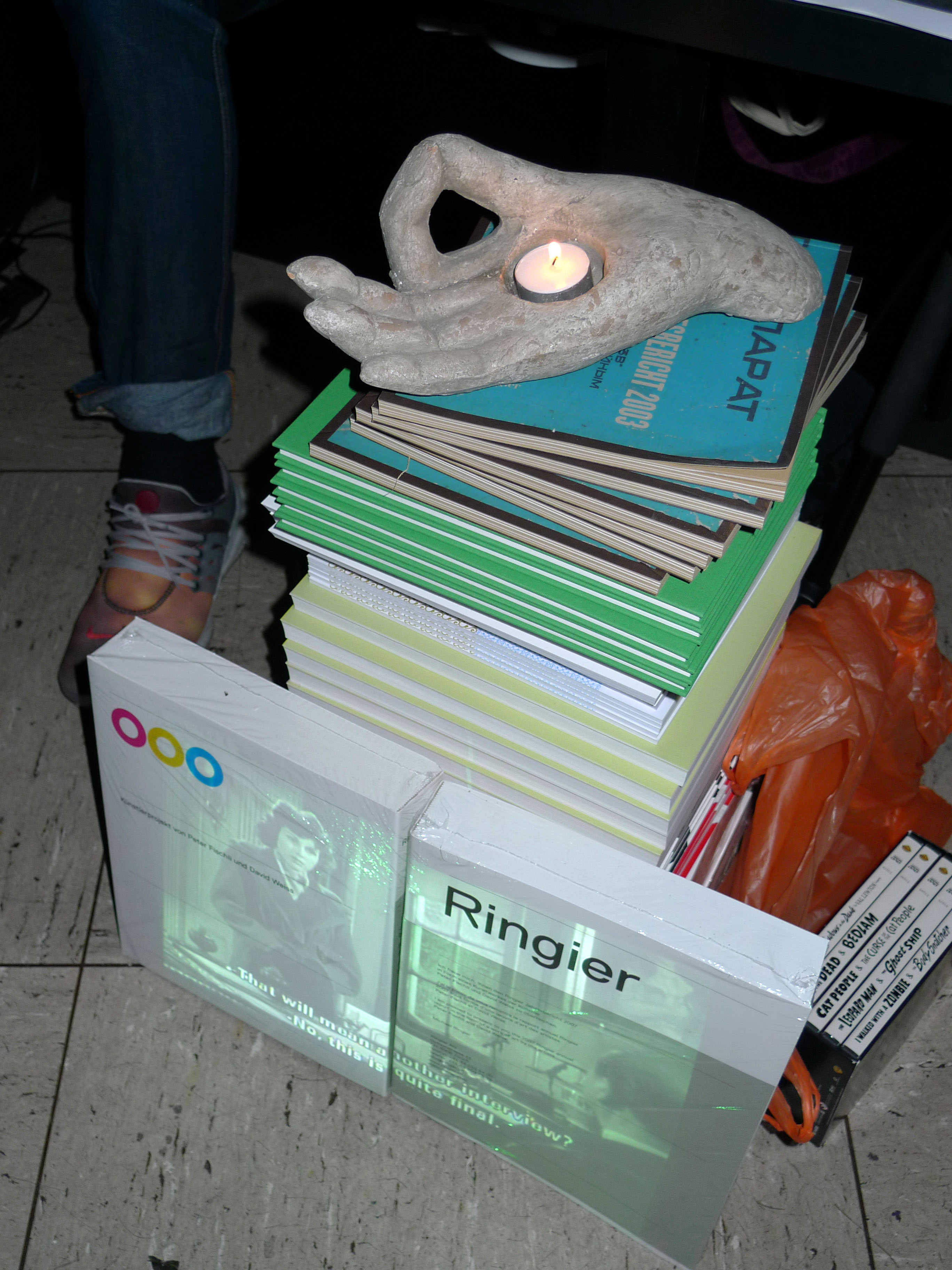 Vernissage